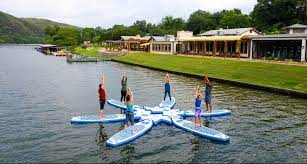 *Lake Lotus | Paddle Board & Balance Experience (*Sign Up)
Location: Boat Dock
Join us on our Lake Austin Spa Resort Signature Lake Lotus inflatable paddleboard system. This class is held on the lake and lets you experience the boards while practicing mindfulness and balance. Workout clothes you wouldn't mind getting wet are suggested.
*If inclement weather, this class will be offered on BogaFit mats in our Pool Barn.
This class has limited availability, thus sign up's are requested as well as a two hour courtesy cancellation. Thank you!