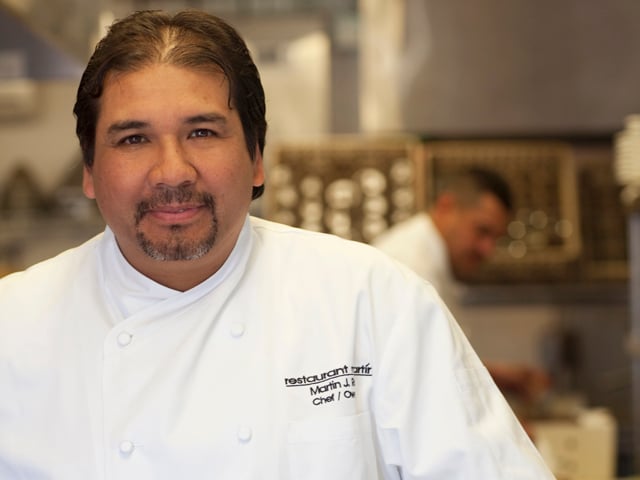 Aster After Dark | Sunday Supper | Guest Chef Martin Rios
Location: The Aster Café at the LakeHouse Spa
November 10, 2019 7:00 pm
Join Special Guest Chef Martin Rios from Santa Fe and Lake Austin Spa Resort Executive Chef Stephane Beaucamp for a gourmet supper with wine pairings by William Chris Vineyards.
Space is limited, please RSVP at  512.372.7341
or register here
Price is $65 per person for resort guests
or $95 per person for general public
+ tax and service charge
Menu:
Blue Lump Crab Salad | Carrot Leaves | Bosc Pear | Avocado Wasabi Pudding | Pickled grapes | Yuzu Kosho
Roasted Prime Beef Rib Eye
Eggplant Ash | Bulgur Wheat | Miatake Mushrooms | Baby Bok Choy | Lemon Thyme
Spiced Almond Financier | Bourbon Vanilla-Lemon Grass Parfait
Restaurant Martin is the embodiment of a 20-year dream to create the perfect balance of refined and comfortable. Chef Martin Rios, and his wife, Jennifer, envisioned a certain ambiance where people from the community as well as Santa Fe's many visitors could enjoy Chef Rios' award-winning progressive American cuisine. Martin and Jennifer are long-time Santa Fean's with a commitment to locality – Martin volunteers for Cooking with Kids, and Jennifer is president of The Horse Shelter. This family-owned restaurant caters not only to tourists, but to a large and local clientele.  Chef Rios received his formal training at the Culinary Institute of America and supplemented that with experience and training in some of the world's most honored restaurants and with well-known culinary masters.