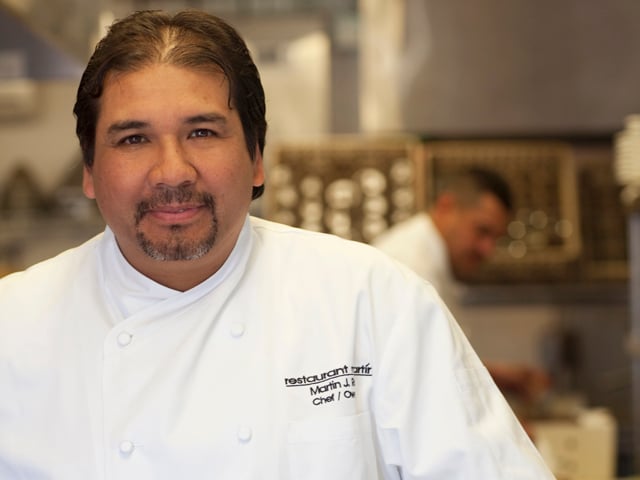 Aster After Dark | Sunday Supper | Guest Chef Martin Rios From Santa Fe
Join Special Guest Chef Martin Rios from Santa Fe and Lake Austin Spa Resort Executive Chef Stephane Beaucamp for a gourmet supper with wine pairings.
Restaurant Martin is the embodiment of a 20-year dream to create the perfect balance of refined and comfortable. Chef Martin Rios, and his wife, Jennifer, envisioned a certain ambiance where people from the community as well as Santa Fe's many visitors could enjoy Chef Rios' award-winning progressive American cuisine. Martin and Jennifer are long-time Santa Fean's with a commitment to locality – Martin volunteers for Cooking with Kids, and Jennifer is president of The Horse Shelter. This family-owned restaurant caters not only to tourists, but to a large and local cliental. Chef Rios, a native of Guadalajara, grew up in Santa Fe starting in the restaurant business as a 17-year-old dishwasher, eventually working his way up to executive chef at several restaurants and hotels. Chef Rios received his formal training at the Culinary Institute of America and supplemented that with experience and training in some of the world's most honored restaurants and with well-known culinary masters.
Chef Rios has been repeatedly honored for his innovative and pleasing combinations of flavors, colors and presentation. His unique style emphasizes fresh, local produce and organic meats and poultry, and reflects not only Southwestern and Asian influences but also his classic training in French technique. His list of accolades include the following:
Finalist in 2015 and 2017 for the James Beard "Best Chef of the Southwest" Award
Semi-finalist for the 2011, 2012, 2013, 2014, 2015, 2016, 2017 2018 James Beard "Best Chef of the Southwest" Award
Appeared as a contestant on "Beat Bobby Flay" 2016 season
Appeared on the Cooking Channel's 2012 season of "United Tastes of America"
Appearing on the BBC America's 2012 season of "Chef Race: UK vs. US"
Named one of SAVEUR Magazine's 2012 top 25 Nation-Wide "Tastemakers"
Featured in the 2008 season of Iron Chef America
The only chef from New Mexico to have won the Robert Mondavi Culinary Award of Excellence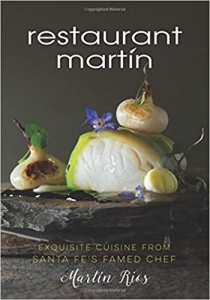 Starting at 7 pm at the LakeHouse Spa's Aster Cafe
Space is limited, please RSVP at 512.372.7341. Price is $95 per person, plus tax and service charge.