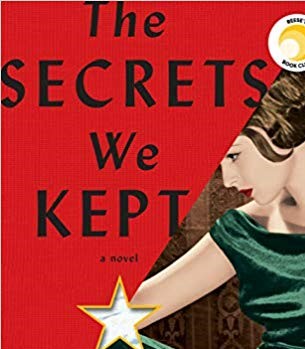 *Aster After Dark | For the Love of Books | Wine and Cheese Author Chat | Lara Prescott
Location: The Aster Café at the LakeHouse Spa
The Secrets We Kept | Author Lara Prescott
Starting at 5 pm at the LakeHouse Spa's Aster Cafe
Space is limited, please RSVP at 512.372.7341. Price is $30 per person, plus tax and service charge. Book club price is $25.  No charge for overnight guests.
A thrilling tale of secretaries turned spies, of love and duty, and of sacrifice--inspired by the true story of the CIA plot to infiltrate the hearts and minds of Soviet Russia, not with propaganda, but with the greatest love story of the twentieth century: Doctor Zhivago.
The Secrets We Kept combines a legendary literary love story--the decades-long affair between Pasternak and his mistress and muse, Olga Ivinskaya, who was sent to the Gulag and inspired Zhivago's heroine, Lara--with a narrative about two women empowered to lead lives of extraordinary intrigue and risk. From Pasternak's country estate outside Moscow to the brutalities of the Gulag, from Washington, D.C. to Paris and Milan, The Secrets We Keptcaptures a watershed moment in the history of literature--told with soaring emotional intensity and captivating historical detail. And at the center of this unforgettable debut is the powerful belief that a piece of art can change the world.
Lara Prescott's debut novel, THE SECRETS WE KEPT, has just been released (September 3, 2019) from Alfred A. Knopf (US) and Hutchinson (UK). It will be translated into 29 languages.
Lara received her MFA from the Michener Center for Writers at the University of Texas in 2018. She grew up in Pennsylvania and studied political science at American University in Washington, D.C. Prior to writing fiction, Lara worked as a political campaign consultant.
Lara's writing has appeared in The Southern Review, The Hudson Review, Crazyhorse, Tin House Flash Fridays, and more. She lives in Austin, Texas.