Unique Venues on

Lake Austin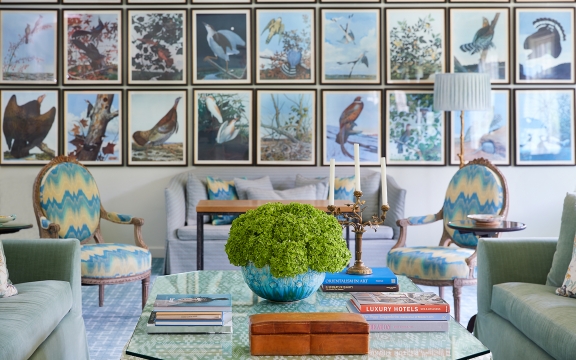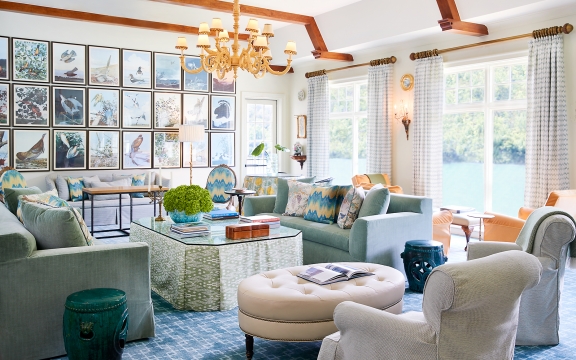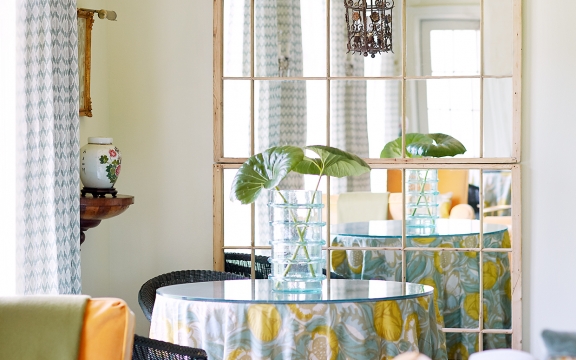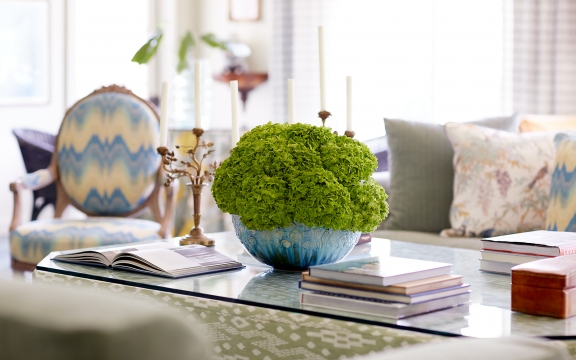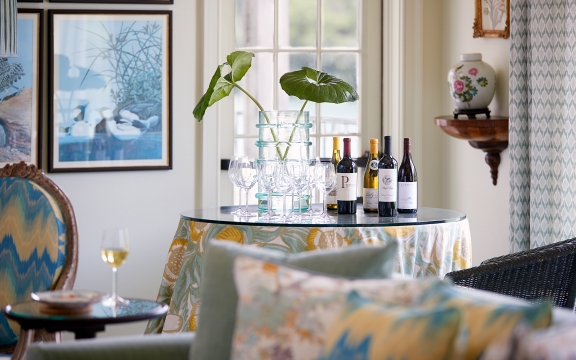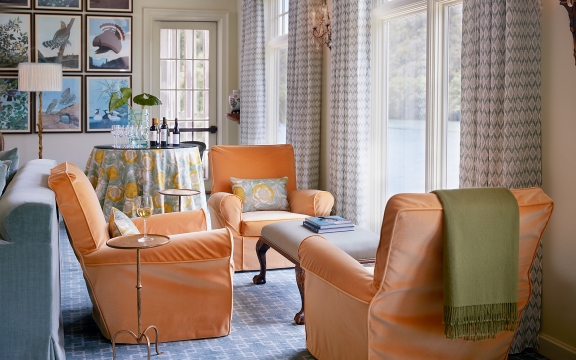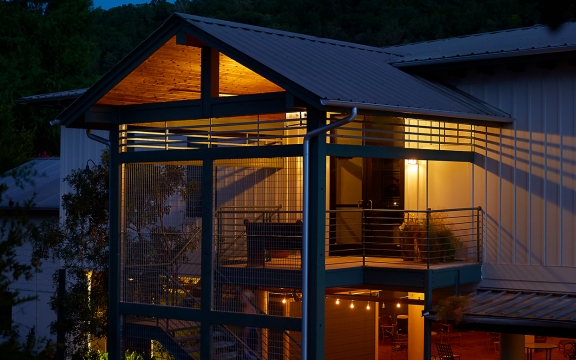 Treehouse Lake Room
Boasting the rich sophistication of old Southern elegance, the vibrant chandelier, decorative ceiling rafters, and floor-to-ceiling windows with spectacular, sweeping views of the lake create the perfect ambiance to meet, relax, or gather together. Clear out the stylish furniture and host a reception or private dining experience for up to 48 guests.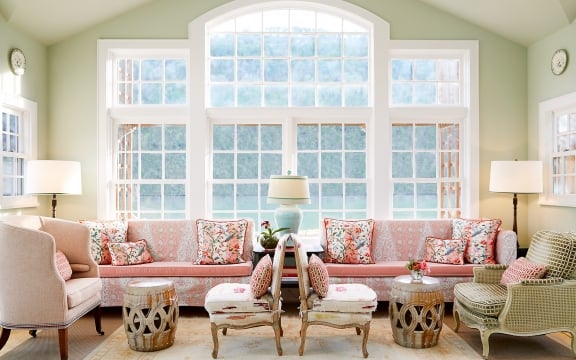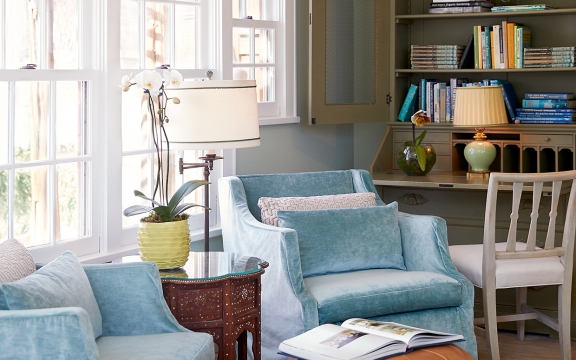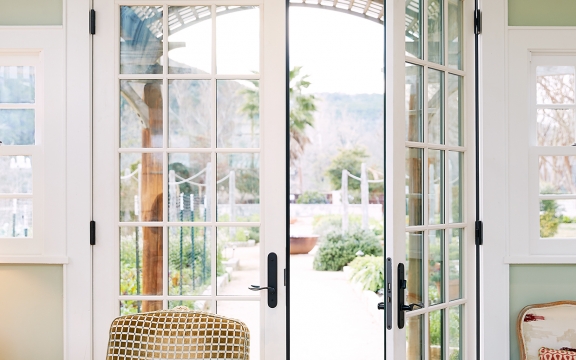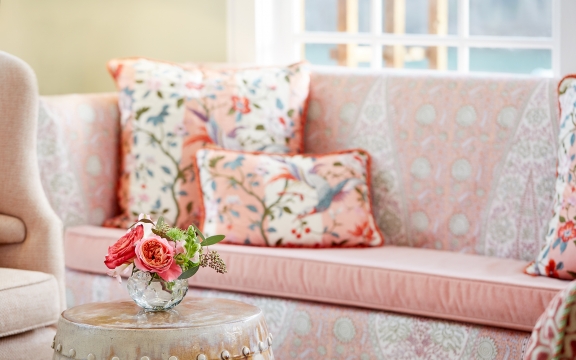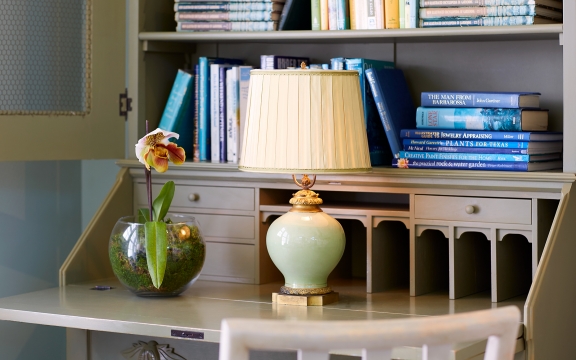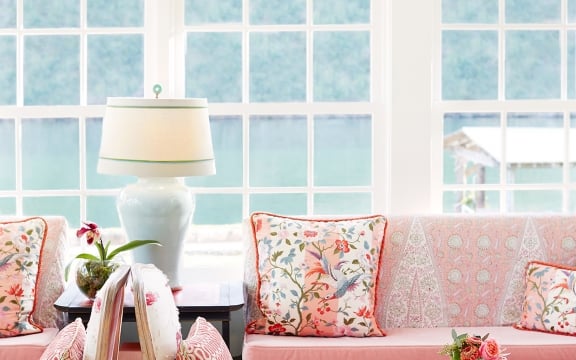 Garden Library
Our Garden Library is one of the favorites of our guests. This intimate, sophisticated room comes complete with a fireplace, 18th Century Crystal Gondola Chandelier, sumptuous furnishings and stunning views of the lake, pool, and garden–perfect to lounge on your own or reserve for a private brunch, afternoon tea, celebration, meeting, or private dinners and activities.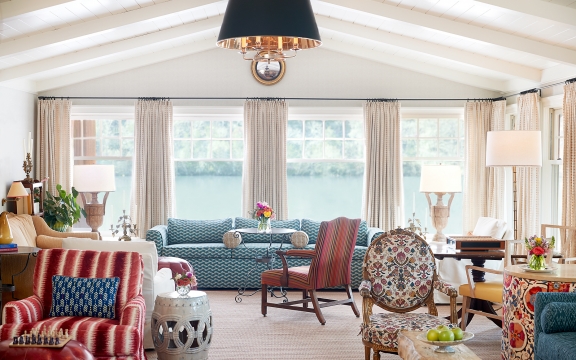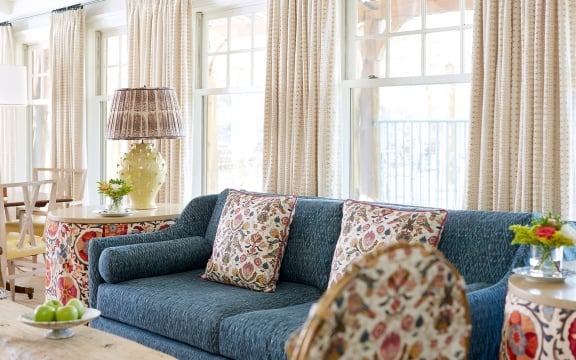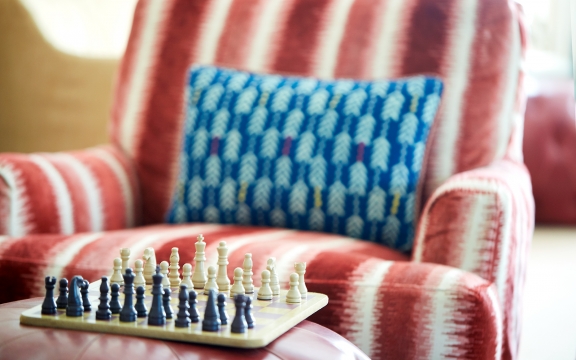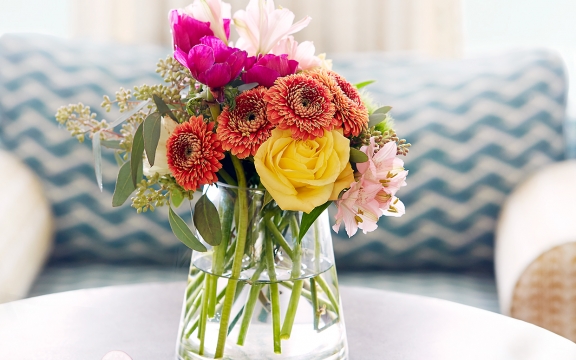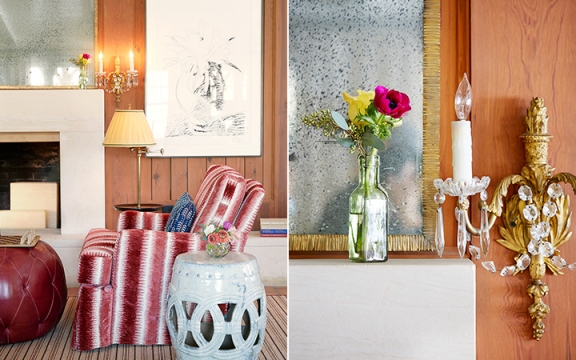 Living Room
Our newly renovated Living Room is an idyllic escape for our guests. Furnished with a mix of beautiful details and design elements, one-of-kind furnishings, gorgeous textiles, fireplace and antiques, this spacious room is genuinely residential luxury at its best. This sunlit room boasts a stunning view of the lake. A perfect sanctuary to read a book, play a board game, or take in the beauty of the lake. Guests will also enjoy our daily afternoon healthy snack served in this sumptuous gathering room.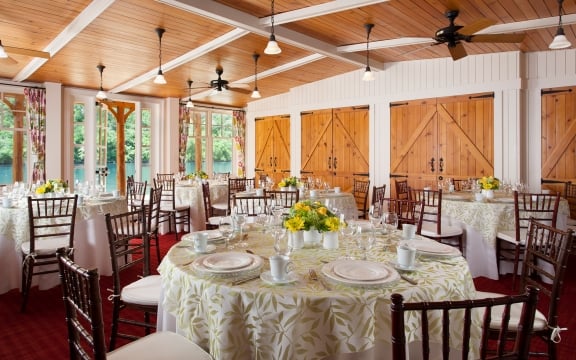 Lake Kitchen
This home-inspired, open-concept kitchen is the perfect place to impress your guests without the stuffy confinements of a ballroom. Host a cooking demo with one of our exceptional chefs or reserve this lake view venue for a private dinner with up to 40 guests reception style.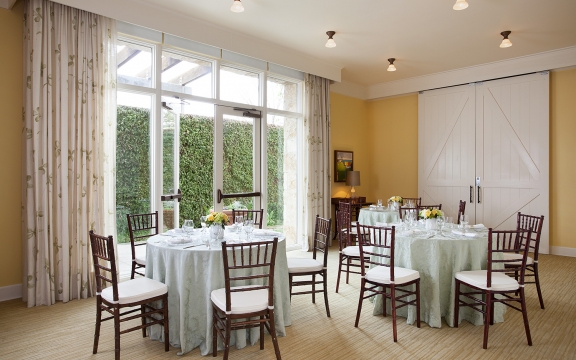 Sun Room
Located at the LakeHouse Spa, the Sun Room can accommodate up to 22 guests for group spa treatments, private dining, meetings, social gatherings, and more. Awash in natural light, this space is as versatile as it is warm and welcoming.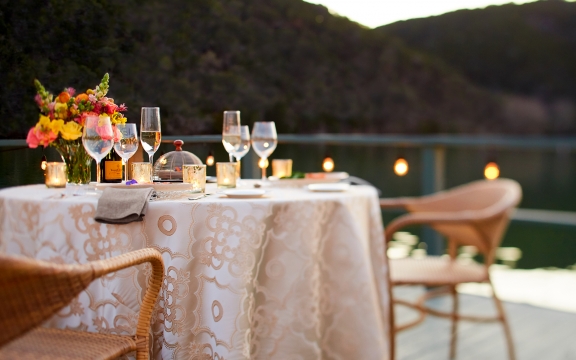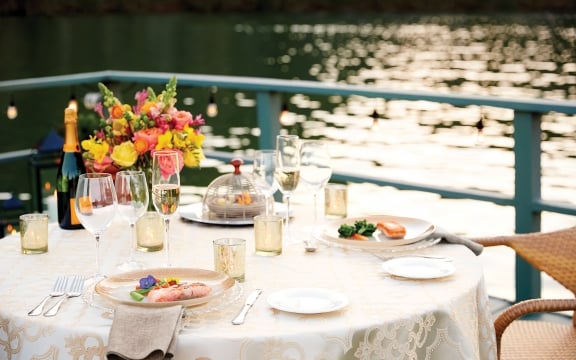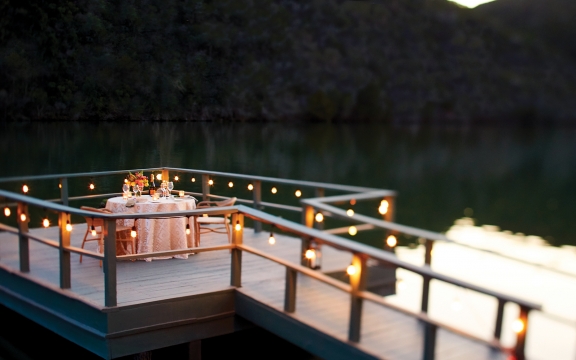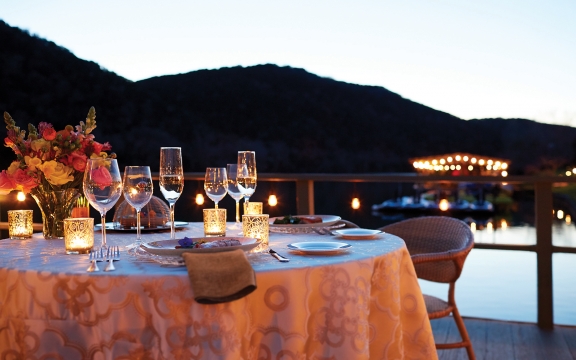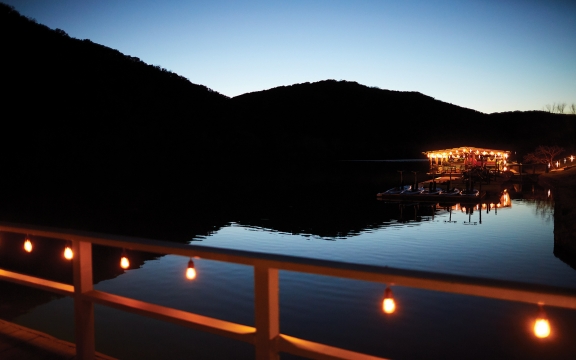 Yoga Deck
This lovely deck sets the stage for a memorable evening dining for two or four, even cocktails with a small group of friends. Our chefs will create flavorful, healthy creations inspired by our beautiful surroundings and sourced by our local gardens. A dining experience you will remember and treasure. (Additional charges apply)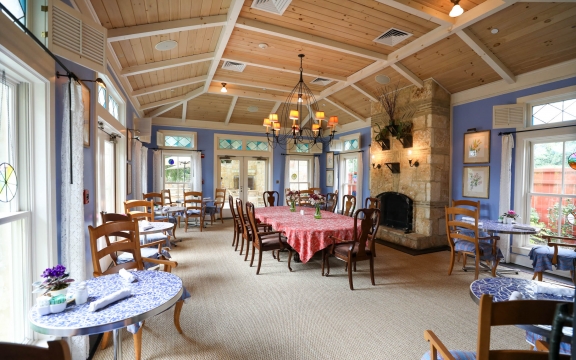 The Aster Café
Celebrate and entertain in a cheery, light-filled atmosphere, or turn the Aster Café into a sophisticated cocktail venue where guests can enjoy cozy indoor space and toast under the stars on our Aster Patio. Located at the LakeHouse Spa, use of this venue is available to both day and overnight guests.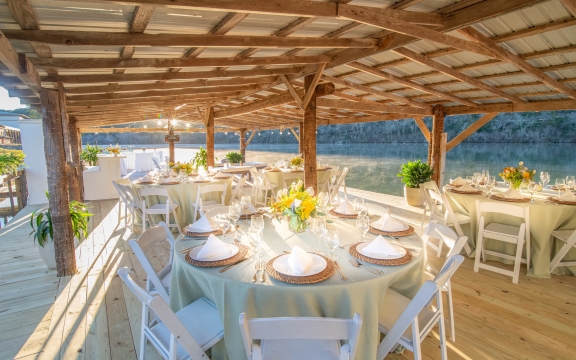 Boat Dock
If you're looking for a unique event space, you can't get any closer to nature and the water than our new floating dining room – used for casual gatherings, private receptions or a private dinner experience. Suspended above Lake Austin, parties of two to thirty two can enjoy a waterfront experience on our anchored dock, with breathtaking views of the Balcones Canyonlands Nature Preserve across the water. A specially conceived menu from Executive Chef Stephane Beaucamp ensures a memorable experience for your private party.
When not in use, this area will provide a serene and soothing gathering space with comfortable seating overlooking Lake Austin for guests to experience the wonderful wellness benefits of being near a body of water.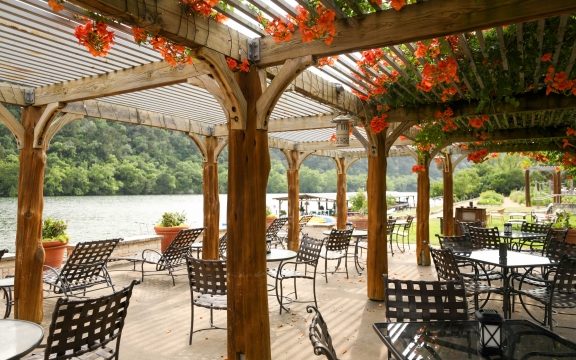 Lakeside Arbor
Stay connected to the beauty of the lake, hillside and surrounding nature preserve when you host a gathering on the Lakeside Arbor. From private dinners to group activities, there's no limit to the possibilities.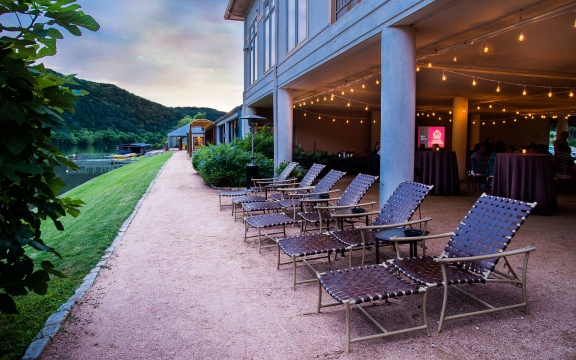 Discovery Area
Accommodating up to 80 guests reception style, this covered but open-air event venue overlooks the lake and is the perfect setting for larger gatherings. A stage and dance floor can also be added, allowing for music, dancing, presentations, speeches, and more.