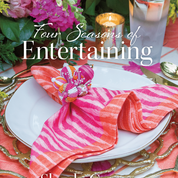 Culinary Experience | Entertaining! | Guest Shala Copas
Location: Lake Kitchen
September 13, 2019 2:00 pm
Sneak Preview:
BAKED BRIE WITH BOURBON CANDIED PECANS
FROZEN PINK LEMONADE ROSÉ FIZZ
CHICKEN SALAD ON APPLE SLICES TOPPED WITH WALNUTS
Shayla Copas, one of the South's most highly acclaimed designers and tastemakers, released her book "Four Seasons of Entertaining" in April of 2019. With an expertise in party and event design, Shayla has earned the reputation as a tabletop and entertaining trendsetter and was honored on "The Salonniere's best 100 party hosts in America in 2019," joining Oprah Winfrey and Jennifer Aniston to this prestigious list. Shayla appears frequently as a speaker at trade shows across the nation as she lends her knowledge on trends, entertaining, and design.
She has created unique and innovative interiors for luxury residential and commercial clients for 20+ years. Shayla designs with a "Southern Glam" appeal using glitz, glamour, pattern, and color. This design aesthetic earned her a show with the Design Network which debuted in early 2019.