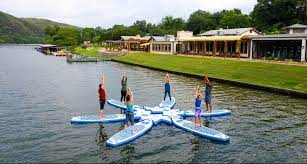 *Lake Lotus | Paddle Board & Balance Experience (Rainy Day Plan B: WOW class in Poolbarn)
Location: Boat Dock
December 5, 2023 10:15 am
Join us on our Lake Austin Spa Resort Signature Lake Lotus inflatable paddleboard system. This class is held on the lake and lets you experience the boards while practicing mindfulness and balance. Workout clothes you wouldn't mind getting wet are suggested.
(*This class has limited availability, thus sign up's are requested as well as a two hour courtesy cancellation. Thank you!)
*If wind or temperature does not allow this class to take place outdoors, it will be moved to our WOW BogaFit class in the Pool Barn. See Activities Desk or call x7274 for details.