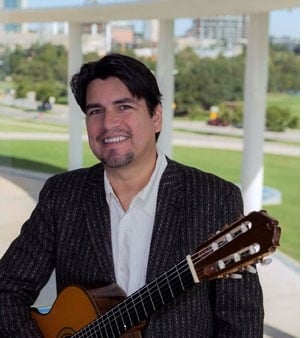 Austin Artists Series | Live Music Lunch | Special Guest Musician Mark Anthony Cruz
Location: Arbor
Mark Anthony Cruz earned his M. M. in guitar performance at Texas State University, San Marcos, where he has been professor of guitar for 18 years.
As a composer, Cruz has been published by Shawnee Press, Soundboard Magazine, MelBay and Clear Note Publications while managing his own company, MAC Publications. He was the first prize winner of the ACG sponsored composition competition in 2006, '07, '08, '10 and '17. He has received several commissions from large institutions, DMA students and private artists. Mr. Cruz's Triptych for solo guitar has been performed internationally by guitar virtuoso Adam Holzman. Such notable artists as the Presti Trio, TxGQ and the Hanser/McClellan Duo have also performed his work in addition to numerous high schools and universities across the country and abroad.
As a performer, Cruz placed 1st in the 2013 Winfield International Fingerstyle Competition. He was a feature artist at the Eastfield Guitar Festival in Dallas, TX in 2008; Classical Minds Guitar Festival in Houston, TX in 2009 and '14; Brownsville Guitar Ensemble Festival and Competition in 2014; Dr. Joseph Williams' Classical Guitar Conference in 2017 and at Dr. Isaac Bustos' Houston Classical Guitar Workshop in 2016 and '17. Five of Cruz's CDs have been featured on the internationally syndicated radio program Classical Guitar Alive hosted by Tony Morris.