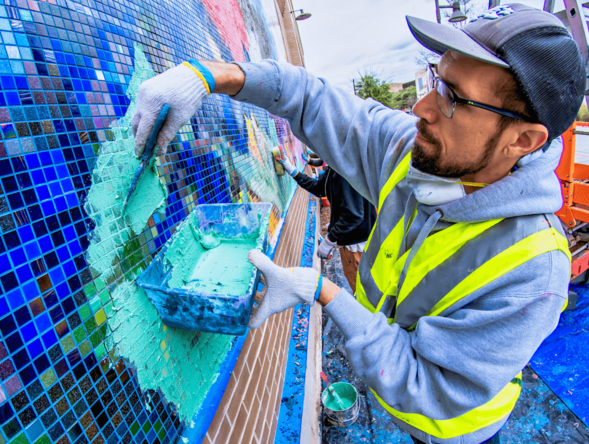 Art Rx | "Reflections" | Guest Mural Artist J Muzacz
Location: Treehouse Lake Room
September 23, 2022 5:00 pm
"Reflections" Art Talk
For Lake Austin Spa Resort's 25th anniversary and in conjunction with the much anticipated pool renovation, Madrone Architecture reached out to Austin-based mosaic mural artist J Muzacz of The Mosaic Workshop to design and install a monumental 400-square-foot artwork on the north side of the new pool cabana wall to serve as a grand entrance statement piece and permanent addition to the resort's extensive curated art collection.
Muzacz met with owner Mike McAdams, designer Mike Mousel, GM JoAnn Lenhardt and lead architects Jose Barron and Ramon Suarez to determine the perfect materials and design concepts for this important project. After much deliberation, a serene abstraction of the beautiful hillside reflected in the shimmering waters of the lake was decided upon, and Muzacz went forth to source tiles from around the world for this immersive installation.
Enjoy a glass of wine with artist J Muzacz as he discusses his practice and the process of creating the unique and sweeping "Reflections" composition on-site from start to finish. Appreciate the details of the artwork up close and personal, and end with a Q & A. Don't forget your camera!