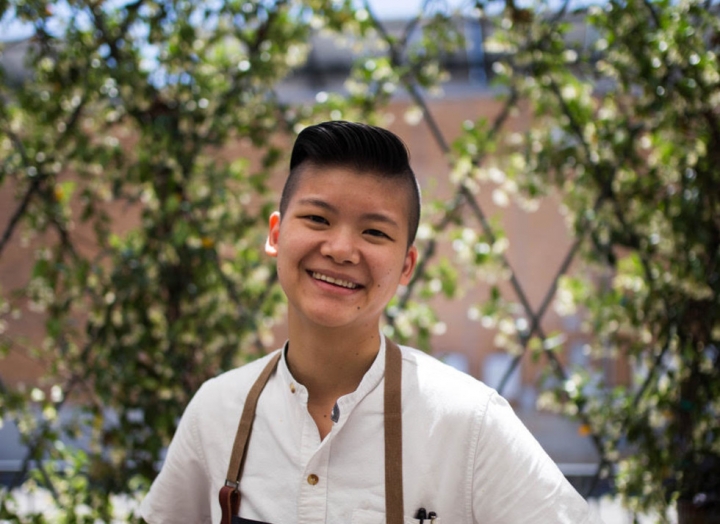 Culinary Demo | Guest Chef Jo Chan
Location: Lake Kitchen
December 15, 2021 3:00 pm
Sneak Preview:
Crostini with chicken salad and dried cranberries
Griddled polenta cake with braised winter greens
Jo Chan, a 31-year-old Chinese Filipino living in Austin, is currently serving as the Executive Chef at Eberly. After graduating from San Diego State University and San Diego Culinary Institute, she moved across the country to New York City, beginning her culinary career at Nobu Fifty-Seven. After a year at Nobu, she went to work at Chef Jonathan Waxman's famed Barbuto restaurant in the West Village, advancing rapidly from the position of line cook to Sous Chef to, eventually, Interim Executive Chef. Jo worked under Waxman for three years, learning about developing flavor profiles around local ingredients and bottom-up cooking. Her time at Barbuto brought her to the kitchen of fellow Barbuto alumni Justin Smillie, who collaborated with restauranteur Stephen Starr to create Upland. Under Smillie's direction, Jo learned to make food with passion and dedication, and to create dishes with bold, delicious flavors. More recently, Jo traveled to Scandinavia with James Beard Best Chef winner Marcus Samuelsson for his Nordic Cookbook Tour, working in the capacity of traveling Executive Chef. She and Marcus sought to bring local flavors and seasonal cooking to his American-inspired restaurants, Kitchen & Table, located throughout Scandinavia. While there, they did a series of dinners with the idea of bringing Thanksgiving to Americans living abroad. She moved to Austin in 2018, where she was drawn immediately to Eberly, a restaurant created by Stubbs barbeque founders John Scott and Eddy Patterson. John and Eddy crafted Eberly as a bastion of timeless elegance, going so far as to import a historic, century-old bar from New York to serve as the restaurant's centerpiece called Cedar Tavern. At Eberly, Jo has created a menu featuring delicious, classic fare with seasonal ingredients. Like Jo herself, then, Eberly has a rich history with a New York twist.