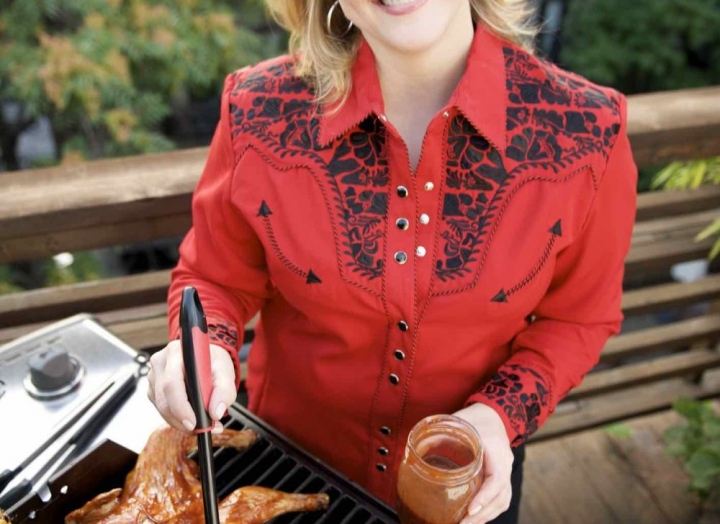 Tips & Tricks for Making Your Favorite Foods "Healthyish" | Guest Chef Elizabeth Karmel
North Carolina native Elizabeth Karmel, a.k.a. Grill Girl, is a nationally respected authority on grilling, barbecue and Southern food.  She launched CarolinaCueToGo.com, an Online Barbecue Shack, in 2015 to make whole-hog barbecue more easily accessible.
She is the founding Executive Chef of Hill Country Barbecue Market in NYC, Brooklyn and Washington, DC, and NYC and Brooklyn's Hill Country Chicken.  She developed the award-winning menu and flavor profiles from the meats to the sides and desserts for both restaurant concepts.   On July 4, 2012, The New York Times awarded Hill Country Barbecue Market NYC 2 stars and a glowing review that read like a love letter to barbecue and the Hill Country concept.
As a sought-after media personality, Karmel writes for, and is frequently featured in an array of national magazines from Bon Appetit to Better Homes & Gardens, and was named one of the top 100 chefs by Saveur magazine and one of "12 Pitmasters You Need to Know Around the U.S."  She appears regularly on all the network morning shows and is a guest judge on Chopped, Beat Bobby Flay and Iron Chef.  She has appeared on a number of Food Network shows and hosted her own special on The Cooking Channel.   She writes a bi-monthly column for the Associated Press called The American Table and is the author of four acclaimed cookbooks.  Her fifth cookbook, Steak and Cake will be published by Workman in Spring 2019.  She also designs an innovative line of outdoor cooking and kitchen tools, one of which is a sold-out best seller and top-rated on qvc.com
MENU SNEAK PREVIEW
Prosciutto-Wrapped Filet Mignon with Blue-Cheese and Pecan Butter
Smashed Potatoes with Fresh Basil and Garlic
Easy Lemon Loaf with Macerated Blueberries