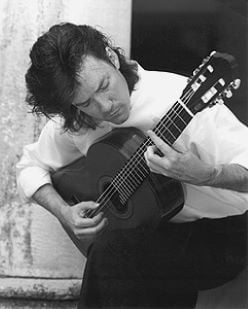 Om for the Holidays | Winter Holiday Dinner | Strum Live Classical Guitar
Location: Dining Room
December 25, 2023 5:00 pm
Guest musician Tony Morris will accompany our holiday dinner.
Tony Morris, is the Executive Director of the Classical Guitar Alive (CGA) nonprofit organization, which produces the award-winning Classical Guitar Alive! radio program which airs each week on over 200 NPR stations nationwide, and has been nationally-broadcast since 1997.
CGA's other projects include its Music In Medicine program, which has presented hundreds of free classical music performances at hospitals and hospices in Texas since 2004. In 2017, the program expanded to California with guitar duo performances with Grammy-winning Hollywood film and Broadway composer/guitar Mark Mancina (The Lion King (both the film and Broadway stage productions), Moana, Twister, Speed, Training Day, and others).