A Girls' Weekend to Relax and Reset
Kelly Yandell – The Meaning of Pie
"And at the end of the day, this is where Lake Austin Spa Resort shines. You can do a million things or nothing at all."

Relax. Reset. Renew.
Texas Monthly
"There is nowhere you'll feel more spoiled, more rejuvenated, or more mindfully blissful than at Lake Austin Spa Resort."

Southern Lake Escapes
Garden & Gun
"In between head-to-toe treatments and organic meals, you can hike nearby trails, practice yoga on the dock, or take a water bike for a spin."

Top 10 Day Spas Across the Country
Travel Channel
"One day is all you need to take a mini vacation, relax and recharge at these top spots."

10 Amazing Spa Resorts and Wellness Getaways Around the World
Houston Chronicle
"Edged by a verdant nature reserve on the banks of the Lake Austin, this easy-to-reach retreat has a casual sophistication with a design-minded lakehouse vibe."

18 Best Hotels in Austin
Conde Nast Traveler
"Set on a picturesque hillside of its namesake lake, this all-inclusive destination spa attracts relaxation-seekers from all over."

The South's 10 Best Resorts
Southern Living
"Southerners take life at a slower, more relaxed pace than most – so it's no wonder that we absolutely love to spend time at elegant resorts."

15 of the Best Getaways for a Girls Weekend
RedBook Magazine
"One of the best destinations for a girls trip is only a 30-minute drive from the city's downtown area."

Couveteur
THE 11 BEST LUXURY SPAS IN THE U.S.
"Spa vacations seem to be the trend nowadays, and the Lake Austin Spa Resort is the crème de la crème of them all."

12 Destination Spas to Visit in the US to Recharge and Relax
PopSugar.com
"The Lake Austin Spa Resort offers a variety of fitness, cooking, and relaxation programs — all set against the stunning natural landscape of Texas Hill Country."

The Top 10 Domestic Destination Spas
Travel + Leisure
"Lake Austin Spa, a, 40-room retreat in the Texas Hill Country, also prioritizes fitness: think boxing, Bosu balance training, and tai chi."

The 50 Best Spa and Wellness Retreats Across the U.S.
Prevention
"If you're a gal who likes options, this southern spa is for you."

8 All-Inclusive Resorts with Life-Changing Spas
JettSetter
"Choose an all-inclusive package with a spa credit at Lake Austin Spa Resort in Texas Hill Country and the only worry you'll have all week will be choosing which of the 100-plus treatments to experience first."

Rejuvenate While Traveling at These 10 Luxe Destination Spas
Departures
"It may be only about a half-hour outside of downtown Austin, but the Lake Austin Spa Resort feels like a world unto itself."

The 20 Best Destination Spas
Town & Country
"If you're hoping to shed a few inches- or simply kickstart a healthier lifestyle- here's where to go."

Best Wellness Retreats of 2019
TravelZoo
"Lake Austin in Texas Hill Country will have you at howdy: A water taxi equipped with twin mood-setters—bubbly and binocs—will meet you in downtown Austin."

The 10 Most Beautiful Lakeside Hotels in the World
Architectural Digest
"Everything at this resort was designed around nature. Situated on 21 miles of shore, Lake Austin Spa Resort was constructed to marry the elements of the Texas Hill Country with the details of a European dressmaker."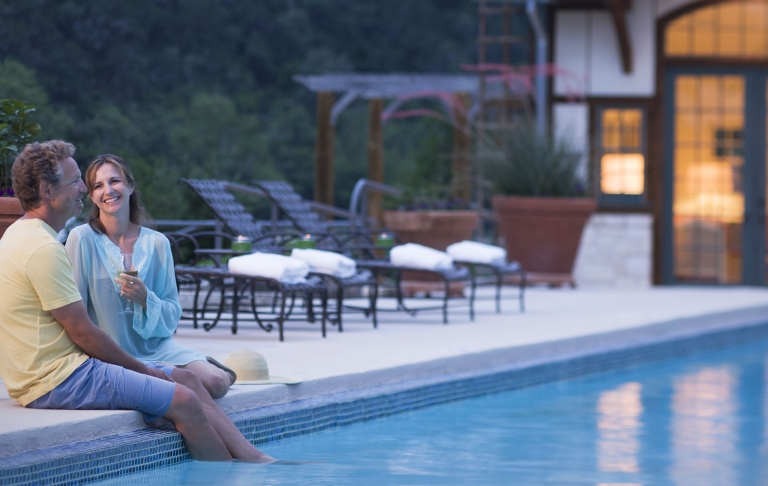 About Lake Austin
We've got deep roots in wellness. Discover our history, meet our team, and learn what makes us a celebrated destination spa and wellness resort. Find directions, get your questions answered, and join The Monarch Club.
Learn More