Let Us Inspire and Guide You to a Deeper Level of Feeling Well and Whole.
Mental, emotional, and spiritual wellness comes in many different ways; there is no one-size, fits-all approach. At Lake Austin Spa Resort we offer a full spectrum of experiences just as unique as you are. We understand that a strong and resilient mind and spirit transfer to all aspects of our lives. With expert guidance and a truly inspiring setting on the water, everything you need to take your well-being to the next level is right here on the shores of Lake Austin.
Inspiration & Integrative Wellness programs at Lake Austin Spa Resort are designed to help individuals attain more peace, health, balance and fulfillment in their lives. Led by Julie Haber, who brings over 25 years of experience in holistic living and a passion for helping others, these programs and sessions assist individuals to higher levels of mental, emotional and spiritual wellness. Julie's keen interest in inspiring others toward health and well-being have become some of the most popular and powerful sessions offered at Lake Austin Spa Resort. She specializes in providing support and celebration for life transitions, coping with loss and grief, finding meaning and purpose, enhancing relationships, finding peace in today's modern fast-paced world, sound healing, meditation, team building and public speaking. She offers private sessions including:

Inspired Wellness

This service invites both conversation and guidance and is tailor made to address anything you might be facing in your life, such as questions around life purpose and meaning, managing stress, incorporating healthy lifestyle, loss and grief, relationships, spiritual wellness and creating life balance. This session can be private or shared with a significant other.
$240 per person. $325 per couple; $395 for three.
Request a reservation online or by calling 512.372.7380.

Crystal Bowl Sound Immersion

Julie's training as a  Crystal SoundEnergy Practitioner™ coupled with the vibration and purity of crystal bowls, allows for a unique and soulful experience. In this amazing sensory immersion, the crystal bowls are placed directly on the body, allowing sound frequencies to aid in addressing any imbalances by creating an environment conducive for a renewed sense of peace, relaxation, insight, inspiration and healing.
$240 per person.
Request a reservation online or by calling 512.372.7380.

Honoring Transitions
This service blends dialogue and ceremony and is helpful and supportive for moving through times of change. Whether it be celebrating a milestone, moving through a painful transition, letting go of the past including less than optimum habits, or reclaiming and uniting parts of yourself, this session is helpful for successfully navigating life's transitions.
$240 per person.
Request a reservation online or by calling 512.372.7380.

Journey In
We live in a world where an increasing emphasis is placed on our outer lives and achievements. This powerful service allows you to experience the richness that comes from journeying inward through the support of gentle guidance, music, visualization and breath. This is an ideal service for those who are curious, soul seeking, or wanting to connect with deeper guidance and intuition.
$240 per person.
Request a reservation online or by calling 512.372.7380.
Spa & fitness credit can be applied to these services.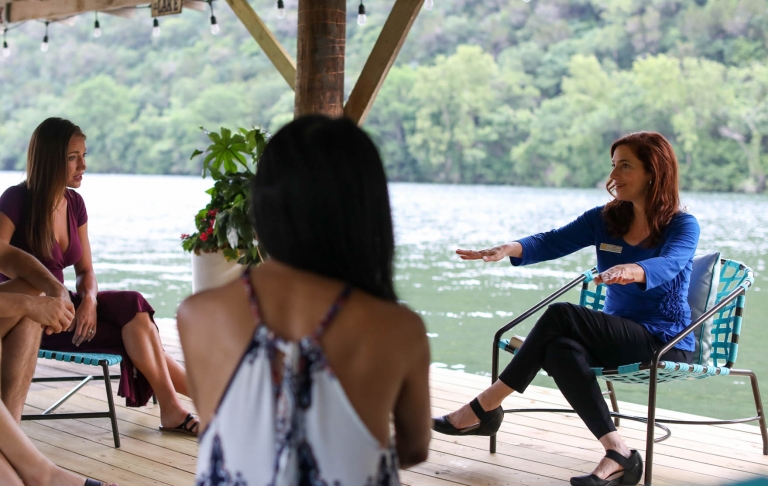 Julie Haber
Having worked with CEOs, senators, students and celebrities, Julie believes our most valuable wisdom comes from the experience of our own life. She likes to remind herself and others that the word inspiration comes from the Latin verb inspirare, which means to 'breathe into.' She believes every experience we go through in life, whether challenging or enjoyable, gives us an opportunity to breathe into it.
A certified mediator, she believes devoting time for compassionate communication, and committing to building and sustaining healthy relationships, is integrally connected to living a vital and fulfilling life. She loves incorporating storytelling, poetry and humor into her speaking engagements.
Having recovered from a long term life-threatening autoimmune disease, she loves to encourage others to find their own healing through patience, hope, incorporating a healthy lifestyle, and finding meaning in all circumstances. She has always found delight in the saying, "Be yourself. Everyone else is taken."
Private & Semi-Private Sessions with Julie Haber
Inspired Wellness
"The 'Inspired Wellness' session we did helped me to turn a painful transition into a joyous one. Instead of despair I feel hope for what comes next and I feel as though I am starting to have a better understanding of myself and the broader world around me. I will apply the practices you shared and look forward to reconnecting with you next time."
—Heather
"Because of your classes and the private 'Inspired Wellness' session, I genuinely felt so much more grounded than when I arrived.  I often need solid tools with clear instructions in order to introduce new habits into my daily routine.  You identified that specific need in me and gave me tools that I feel are manageable and will be a great help in making some changes in my life. You are a very inspiring individual and I'm so grateful that our paths crossed."
—L.W.

Crystal Bowl Sound Immersion
"The 'Crystal Bowl Sound Immersion' treatment was beyond belief. Julie is a master. Highly recommend."
—Christine B.
"Powerful. I was very intrigued with the practice and had heard a lot about crystal bowls, but was not prepared for the impact it had on me."
—Sheila H.
"The 'Crystal Bowl Sound Immersion' private session with Julie was incredibly transformative for me. It was healing and yet energizing simultaneously. I am still dreaming about the sound of her 'heart bowl' on my heart and trying to relive the moments! Thank you Julie for bringing your work to my favorite spa in Austin:-) I cannot wait to try some of your other sessions you offer next time I come to the spa."
—Dr. Pavlina S.
"The last year of my life has been the most difficult, but I am filled with gratitude to have had the experience of the 'Crystal Bowl Sound Immersion' with Julie. Please consider this service, especially if you are in need of healing. Julie lovingly, knowingly, and expertly guided me through an experience I will never forget. Julie's kindness and wisdom, along with the humming and vibration of the crystal bowls, allowed me to release, let go, and look forward to my future"
—Sarah from Chicago

Honoring Transitions
"I loved the 'Honoring Transitions' session. It was incredibly helpful to have Julie's guidance and heartfelt listening to help me clarify and celebrate what I was ready to let go of, and what I was ready to step toward in my life. I will fondly remember this experience. I feel a sense of excitement and hope about what is next in my life."
—D.M.
"We received so much from our mother-daughter 'Honoring Transitions' session. We did an 'Inspired Wellness' session with Julie first, which helped us to clarify what we wanted to work on and helped us find the right tools to improve our communication. We then did an 'Honoring Transitions' Ceremony, and it was so special as it truly helped us renew our mother-daughter relationship, leave some of the past behind, and have a clearer vision for the future. It is an invaluable gift to be able to have someone hold the space for a new relationship to emerge!"
—Valerie and Chrissie

Journey In
"The 'Journey-In' session was the pinnacle of my trip. I am so grateful and humbled by this experience…Wow."
—Dena L.
"I had the honor of doing a 'Journey-In' session with Julie and it was incredible! I felt calm and connected throughout the entire session. Julie guided me with breath work and gentle facilitation. She was able to tap into the inner conflict I've been processing for a while and bring clarity and comfort to my soul. I would highly recommend a session with Julie for anyone looking for peace, comfort, and a deeper knowing of self."
—H.R.
stay social
Experience Lake Austin Spa Resort through the lenses of our guests with our #lakeaustinspa social gallery.