Conscientious Cuisine at Home
April 30, 2021
Making healthy food at home doesn't have to be hard (or boring). Here at Lake Austin Spa Resort, we follow a philosophy of conscientious cuisine. It means we're thoughtful and intentional in the selection of our ingredients—putting flavor, balance, and nutrition at the forefront of the palate. This philosophy is one you can follow at home, too! We've asked our celebrated guest chef, Beth Pav, for her best tips and insights on making healthy food choices at home.
Choosing Healthy Ingredients & Making Substitutions
From Beth:
"Eating whole foods in moderation is key. For example, if you prefer not to have traditional pasta, you could substitute with a vegetable like zucchini. Try subbing coconut milk for whipping cream and using healthier oils like olive or avocado oil. For my couscous salad recipe below, you could definitely substitute the couscous for quinoa, barley, or rice."
When you visit us as a spa or resort guest, choose from our delicious, healthful selections including Aster Quinoa Salad at the Aster Café in the LakeHouse Spa, or Redfish with harissa-tomato broth, Spanish chorizo, and ancient grain hash for dinner in our main dining room.
Start the Day with a Great Breakfast
From Beth:
"I love a leaf salad with a fried or boiled egg for breakfast with a piece of fruit and/or homemade toasted bread. A small bowl of oatmeal with ghee, or alternatively berries and nuts, is also nice."
Take a break from bacon and experiment with better breakfast options at Lake Austin Spa Resort. Try our Butternut Breakfast Hash, Power Parfait, or Superfruit Bowl from the comfort of the porch of your guest room, under the Lakeside Arbor, or just about anywhere on our resort grounds!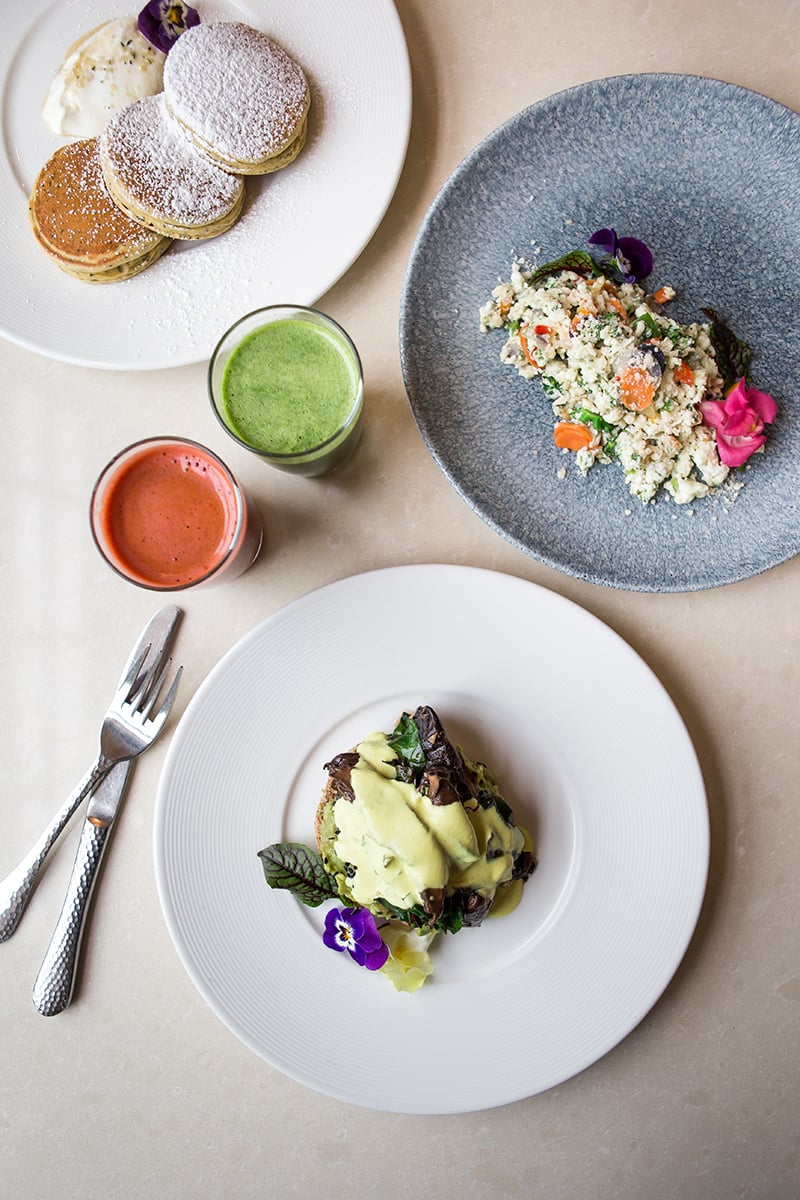 Chef Prep & Cooking Tips to Try at Home
From Beth:
"Stay organized and have all your ingredients ready to go, which we call "mise en place" or everything (all ingredients) in place. Taking this measure makes cooking and even clean-up go smoother and faster.
One of the most frequently asked questions I get is, "What type of knife should I use?" There are so many out there and one for every task. However, it's super important to have that one knife that fits your hand like a glove—"test drive before you drive". My go-to is a standard 8" chef's knife."
Going Gluten- or Dairy-Free
From Beth:
"Making substitutions for a gluten-free or dairy-free diet would really depend on the specific nature of the recipe and the person. Luckily, there are more mainstream choices today than ever before to sub ingredients like nut or rice flour along with nut or soy milk. Plus, there are many resources and apps for people to find recipes to suit their diet."
For those with food sensitivities and allergies, you'll be well taken care of during your stay with us. All of our menus feature several selections that are gluten free, dairy free, vegetarian, and vegan, so you'll never be stuck with just one option. Savor conscientious creations with ingredients from gluten-free tortillas to dairy-free yogurt, plus main dishes crafted with your needs in mind.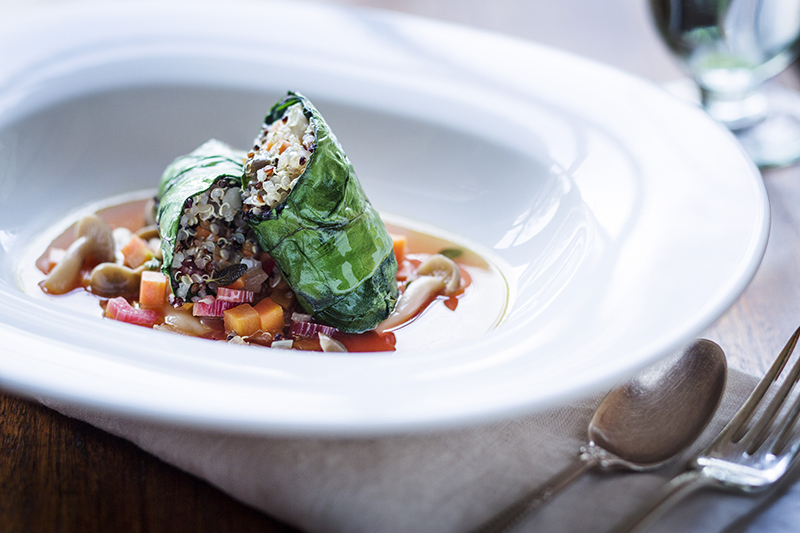 Try Beth's Recipes at Home
About Chef Beth Pav:
After beginning her career as a TV and video writer/producer, a two-month European journey changed the course of Beth Pav's life. She returned with a passion for creating the endless possibilities that begin with fresh, wholesome ingredients. She graduated from L'Academie de Cuisine and took additional classes at the Culinary Institute of America. Then she opened Cooking by Design Culinary Studio in Austin, Texas, as a home base for private cooking classes, food styling, and her personal chef service. In addition to being a celebrated chef, Beth is a renowned culinary instructor, recipe- and menu-developer, and writer.
Check out Beth's website, and follow her on Instagram, Facebook, and Twitter.

Couscous Salad with Baby Spinach, Red Bell Pepper, Feta, Pistachio & Citrus Vinaigrette
Ingredients:
Couscous
• 2 cups pearl couscous
• 1 cup baby spinach leaves, julienne
• 1 red bell pepper, minced
• 1 tbsp fresh mint, minced
• 1 tbsp fresh basil, minced
• 1 ½ cups of crumbled feta cheese
• 1 cup pistachios, toasted
• Salt and pepper
Vinaigrette
• ¼ cup fresh squeezed lemon juice
• ½ cup virgin olive oil
• 1-2 tsp salt
• ½-1 tsp fresh ground pepper
Directions:
Couscous
1. Follow boxed directions for couscous. Set aside.
Vinaigrette
1. Pour all ingredients into a mason jar or container with a tight lid.
2. Cover tightly and shake vigorously so that all ingredients come together.
3. Set aside until ready to use.
Putting it all together:
1. Fluff couscous, breaking it apart so that the pieces of pasta loosen.
2. Add spinach, bell pepper, herbs, and feta.
3. Drizzle ½ of the vinaigrette over the mixture.
4. Mix ingredients to distribute all ingredients evenly.
5. Taste. Add more vinaigrette, salt, and pepper as needed and to taste.
6. Gently incorporate these ingredients.
7. Serve in individual portions or on a large platter family-style.
• Store in the refrigerator for up to 1 week.
Salt & Pepper Seared Salmon
Ingredients:
• 4 4-ounce pieces fresh salmon filet, de-boned and skinned
• Salt and pepper
• 2 tbsp of olive oil
Directions:
1. Drizzle olive oil over the top and bottom of the salmon filet.
2. Sprinkle the top side of salmon filet generously with salt and pepper.
3. Repeat on the other side.
4. Place salmon topside down in a heavy bottom sauté pan on high heat. Sear (will take up to 1 minute).
5. Turn salmon when it lifts easily from the pan.
6. Repeat on the other side.
7. Cover with foil; take off the heat and let sit for a few minutes.
• Store in the refrigerator for up to 3 days.
Ready to join us and get a taste of the lake life? Our incredible offers make it easy to make the most of your stay. Curious about our safety protocols? Learn all the ways we work to ensure the wellbeing of our guests and staff here.