Lake Austin Staycations: Plan the Ultimate Girls' Getaway
July 10, 2019
It's time to get the girls together! For a relaxing, restful weekend that gives you all a chance to disconnect from the pressures of your everyday and reconnect with each other, we've put together the perfect itinerary for your time at Lake Austin Spa Resort. From fun fitness classes, to sublime spa treatments, to plenty of time to fit in a few laughs, your ultimate girls' getaway is closer than you think. 
Nestled in the picturesque Texas Hill Country, our award-winning resort places you on the secluded shores of Lake Austin—perfect for a calming escape but just 30 minutes from the excitement of downtown. Stay in the cozy comfort of our inviting accommodations. Savor delicious, healthy gourmet dining. Get out on the and discover what it's like to live the lake life for a weekend.
FRIDAY
3:00 p.m. – Start your Lake Austin experience in style with an invigorating ride from downtown Austin on our Luxe Water Taxi. With convenient pick up locations and stunning scenery along the way, you'll be immersed in the Texas Hill Country before you even arrive. 
3:30 p.m. – Welcome to Lake Austin Spa Resort! Our warm, friendly team will greet your group by name upon your arrival at the gate and hand you your own water bottle and sandals at the front desk. 
3:45 p.m. – Drop off your things and get settled. Wondering what to wear? Our plush robes are perfect for any occasion at the resort. Seriously—you can wear them to dinner!
4:00 p.m. – It's spa time! Stroll under our shady (and totally Instagrammable) trellis walkway, up the lush Serpentine Path to the LakeHouse Spa for a much-needed massage, facial, or other luxurious body treatment. Try our Muscle Tension Melt or LakeHouse River Rock Massage, or kick it up a notch with our one-of-a-kind aquatic treatments. Our groundbreaking Aqua Stretch-Myofascial Release treatment is performed in the warm, shallow, soothing waters of our serene Pool Barn and washes away muscle pain, tension, and stiffness.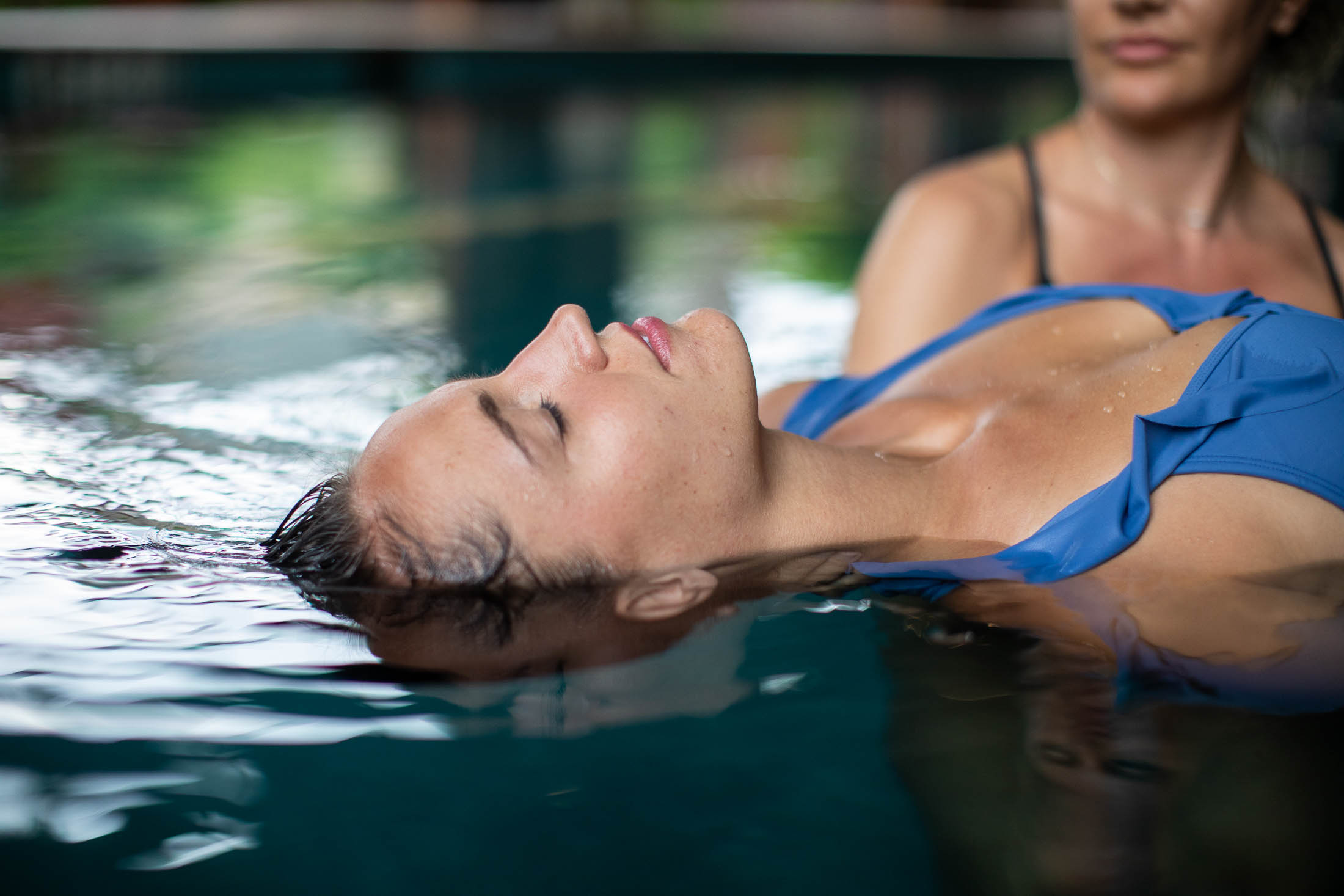 6:00 p.m.  – Get centered with our Innerspace Meditation guided session at the Treehouse Loft.
8:30 p.m. – Dinner is served with a side of stunning lake views. Indulge in a glass of wine and locally inspired cuisine with ingredients sourced from our very own gardens.
9:30 p.m. – Cozy up by the fire pit for our classic s'mores and songs by the shore—just like summer camp.
SATURDAY
8:00 a.m. – Greet the day on the water with our signature Lake Lotus Board & Balance group paddleboard experience, just steps from your rooms.
9:00 a.m. – Enjoy a nourishing, balanced breakfast. From avocado toast to açai bowls, everyone will find something to suit their taste.
10:00 a.m. – Try one of today's hottest new workouts—DaVinci Body Boards. This session uses a patented, cutting-edge resistance band exercise system that tightens and tones smaller muscle groups for lean, chiseled results.
11:00 a.m. – Cool off at one of our two outdoor pools and lounge in our breezy cabanas with some fresh-squeezed juice.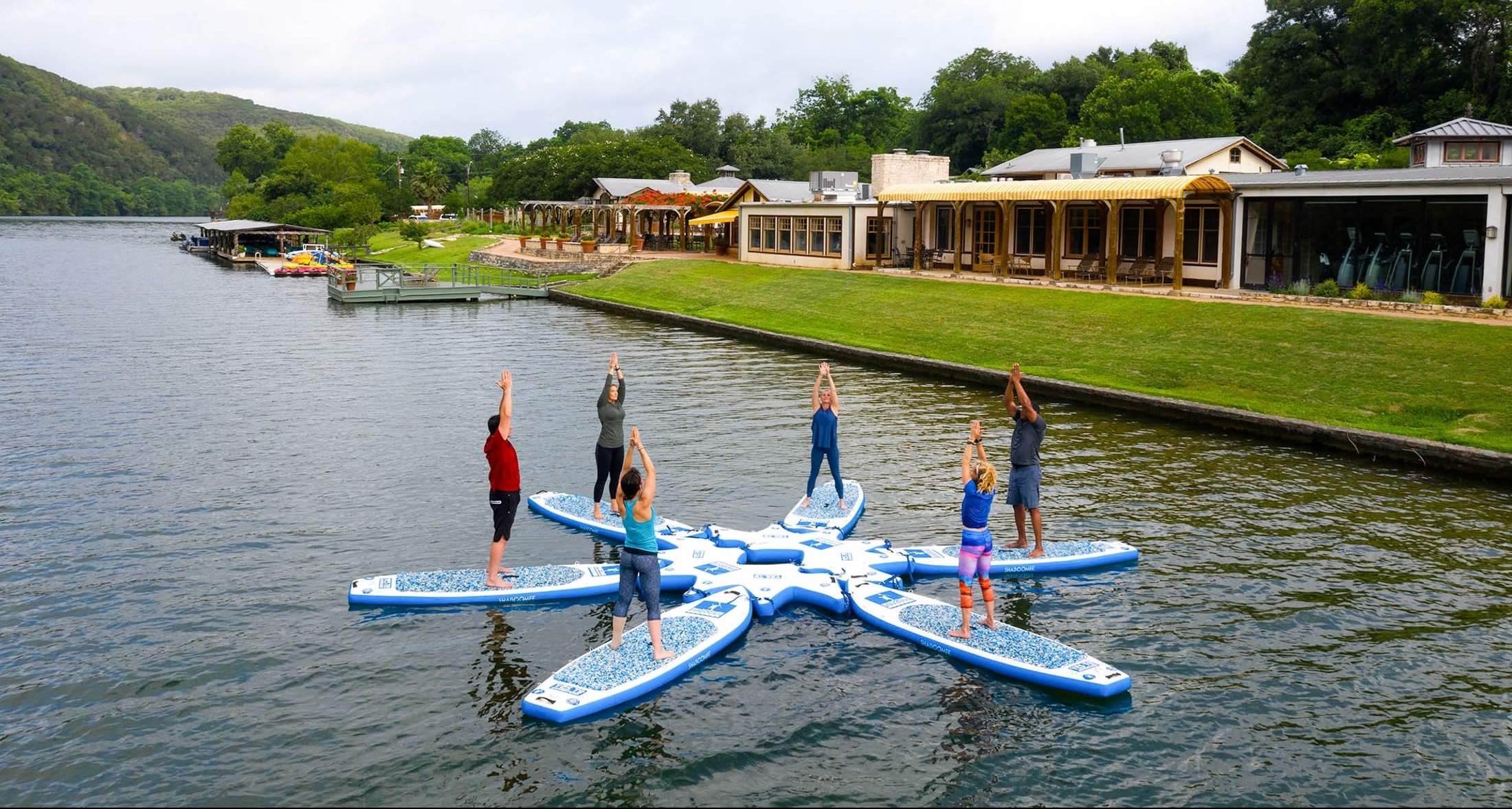 12:00 p.m. – Change up your dining venue with lunch at the charming Aster Café at our LakeHouse Spa.
1:00 p.m. – Bring balance to your body, mind, and emotions with our Rituals to Relax, Rejuvenate, and Restore session, one of many classes taught by our Inspiration & Integrative Wellness Specialist Julie Haber. While you're there, sign up for one of Julie's private sessions, including Crystal Bowl Sound Immersion–an amazing sensory experience in which crystal bowls are placed directly on your body, creating an environment that brings a renewed sense of peace, relaxation, insight, inspiration, and healing.
3:00 p.m. – Stop by the Lake Kitchen for an entertaining (and tasty) cooking demo with our Executive Chef, Stephane Beaucamp.
3:30 p.m. – Ask for some of our signature frozen yogurt or sorbet (flavors change daily!)
4:00 p.m. – Unwind with some yoga and meditation in our Treehouse Loft. 
5:00 p.m. – You can't leave without a cruise on the lake! Our summer wine cruise takes you beyond the shores of the resort to see some beautiful lakefront homes and stunning scenery, complete with bento snack boxes and a generous "Texas Pour" of wine!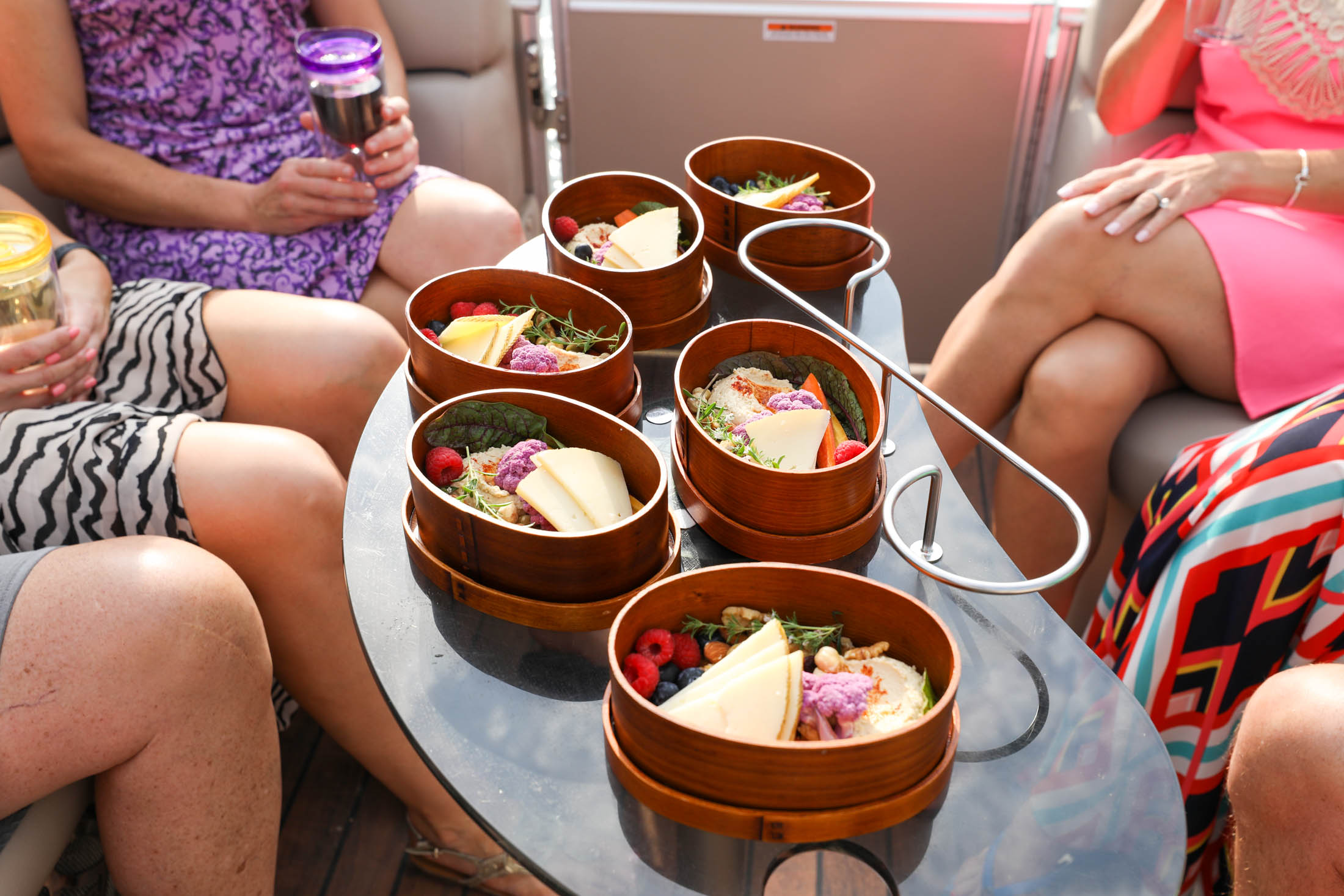 6:00 p.m.  – Get ready for the evening with a complimentary makeup consultation and application in the LakeHouse Spa Boutique with licensed makeup artist and esthetician Kaitlin Scharmann, who has a residency at the spa boutique every other Saturday. Using natural skincare and makeup from Jane Iredale, Kaitlin will help you create a flawless, finished, summer look.
7:30 p.m. – Wind down from your big day with a refreshing crafted cocktail and more delicious dining. 
8:30 p.m. – Settle around the fireplace in the living area with a good book or challenge your squad to a fun board game. 
SUNDAY
8:00 a.m. – The best place to have your morning cup of joe at Lake Austin Spa Resort? On the water, of course. Set out on kayaks for a tranquil start to your day with our Koffee and Kayak session.
9:00 a.m. – Find your center with sound of water and wildlife around you at Yoga Al Fresco Lakeside, an all-level yoga class on our guest-favorite Yoga Deck.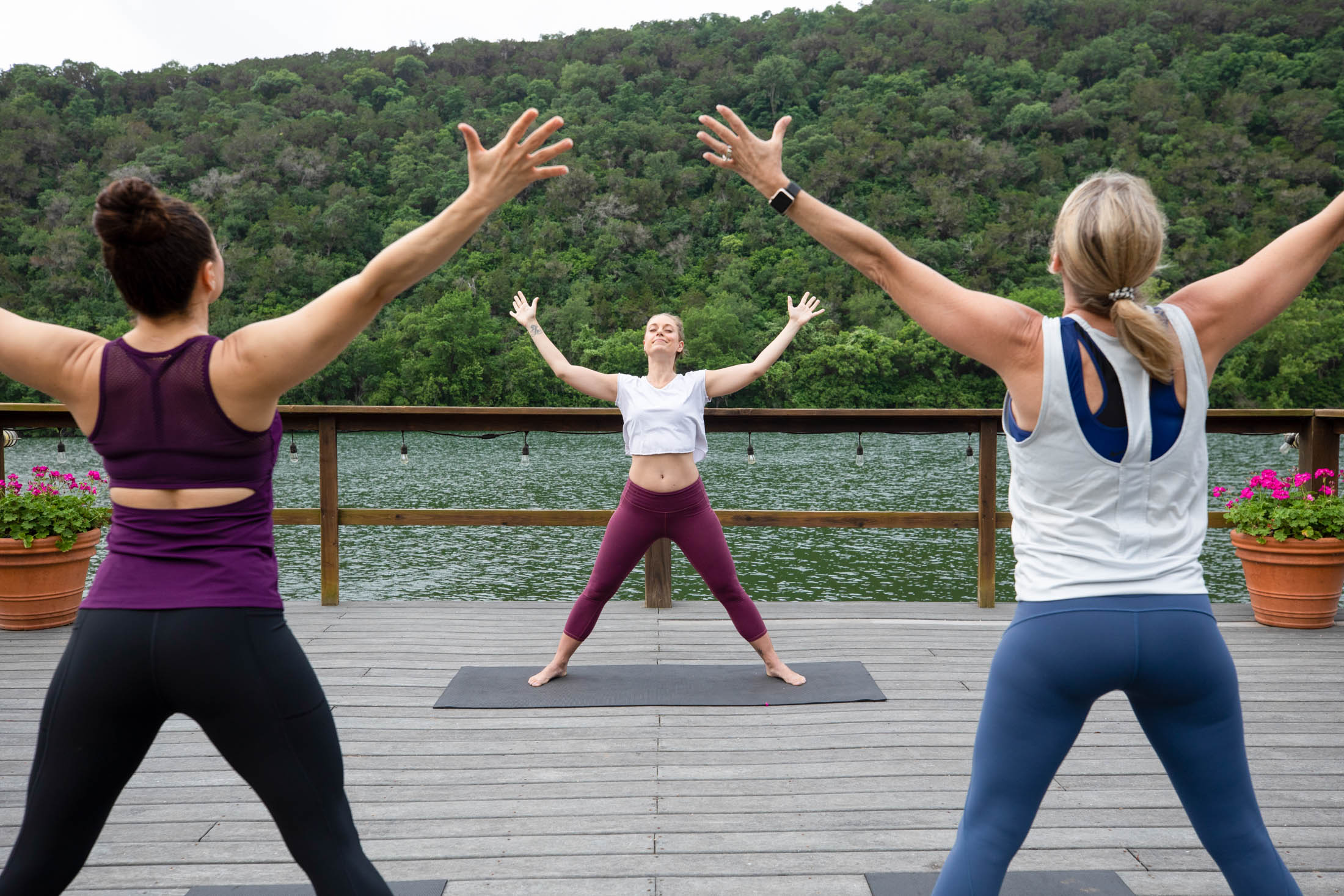 10:00 a.m. – Savor a healthy breakfast of farm-fresh scrambled eggs or Lemon Quinoa Pancakes, with breathtaking views under the Lakeside Arbor.
11:00 a.m.  – It's tube time! Experience lake life to the fullest with chartered tubing, wakeboarding, and waterskiing–a fun, exhilarating, and invigorating way to enjoy Lake Austin.
12:00 p.m. – Refuel at lunch with one of our signature Power Bowls. Try the Green Queen, a protein packed blend of swiss chard, baby kale, spinach, asparagus, green beans, broccoli, avocado, marinated portobello, radish, heirloom tomato, and savory granola + plus a protein of your choice. 
1:00 p.m. – Bring peace and recovery to your afternoon drifting to the relaxing sounds of nature guided by one of our Wellness Professionals in the tranquil waters of the Pool Barn. 
2:00 p.m. – Soak in some more spa time. Try our Collagen Boost Brightening and Firming Facial or our Signature LakeHouse Lavender Scrub. Relax at our private outdoor space, the Bamboo Room. Take a dip in a private hot tub, and laugh and lounge together on an oversized sofa sipping mimosas.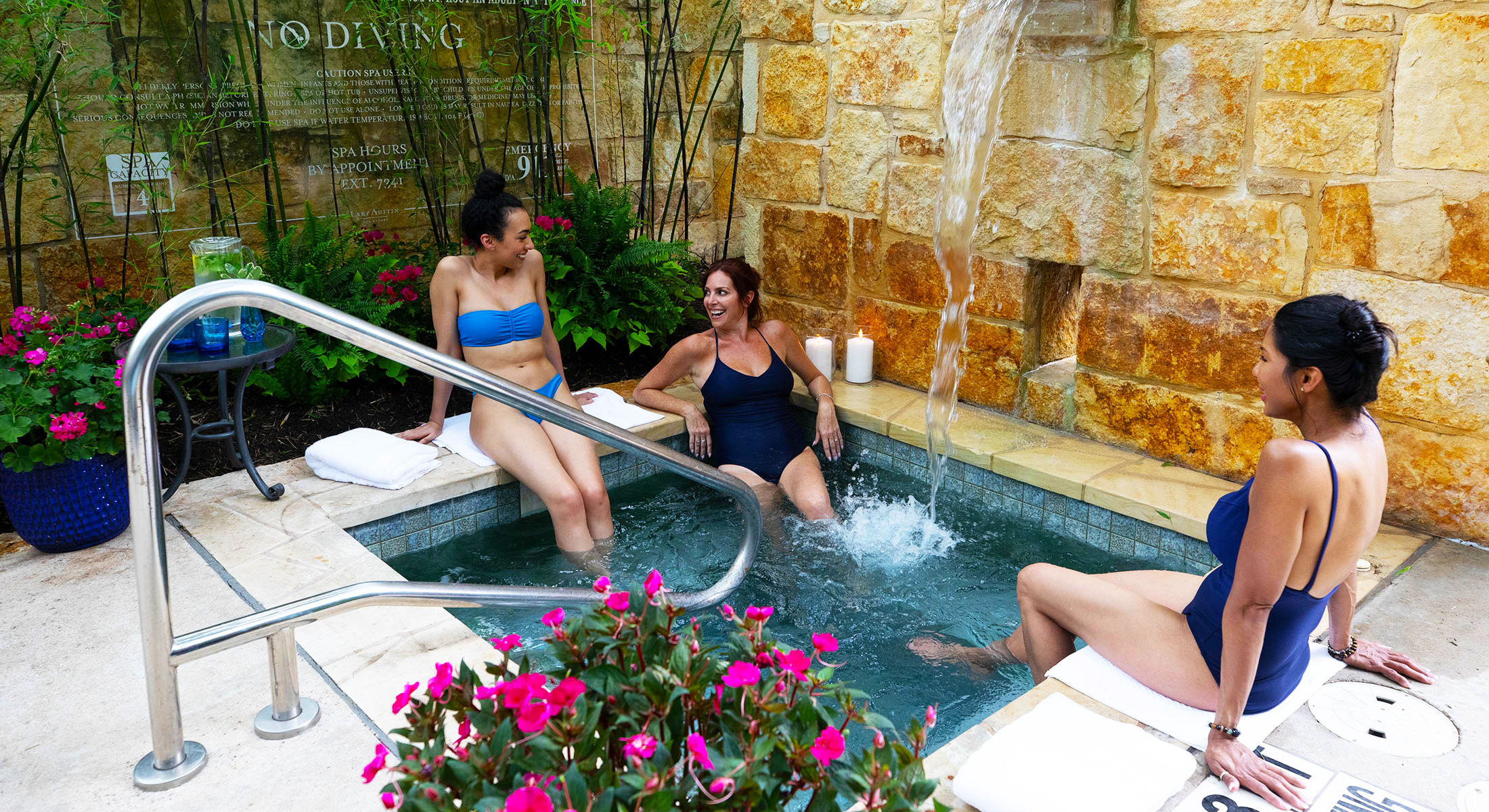 6:00 p.m. – Afterwards, book an appointment at our spa salon with celebrity hair stylist Billy Yamaguchi, who has a residency at the spa salon the first Sunday – Tuesday of every month. Billy will balance and harmonize your hair by applying the ancient principles of Feng Shui. 
7:00 p.m. – Drop in to the Aster Café for our monthly Aster After Dark Sunday Supper and enjoy an exquisite meal prepared by notable chefs with wine pairings
8:00 p.m. – Get ready for a restful night's sleep with our Beditation Meditation class. 
MONDAY
8:00 a.m. – Enjoy one last hearty breakfast of Avocado Toast or our Ladybird Bowl (quinoa, sweet potato, avocado, portobello, sunflower seeds, broccoli pesto, and a sunny side up egg).
9:00 a.m. – Explore miles and miles of lush Texas Hill Country and Lake Austin views with our Bluff Scenic Hike
11:00 a.m. – Get cleaned up and pack up. Stop by the gift shop before check out at noon to find the perfect way to remember your incredible weekend with your best gals.
Now that you've got some inspiration for your ultimate girls' getaway at Lake Austin, it's time to book! Browse our offers and packages or make your reservation now.
Lake Austin Spa and Resort – All photos by Gary Bogdon